Happy Earth Day!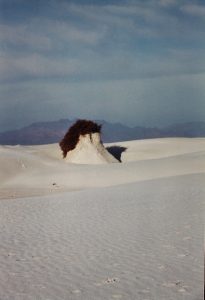 One of the very best ways to help our fragile planet is to simply fall in love with it.  Exploring earth means developing a relationship to the land, water and air we all depend upon for life.  Once you're in love, doing right by her isn't a sacrifice at all.
It's a pleasure.
Here is one of my favorite spots on earth: White Sands, New Mexico.  I had only a vague knowledge of this national monument before I took a detour on my way to hike the Grand Canyon.  I'm so glad I back-tracked a bit to see it, because as it turns out, it was even more amazing than the Grand Canyon.  
I kid you not.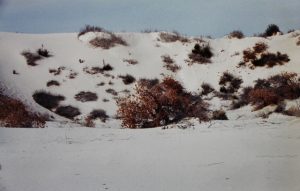 White Sands is a National Monument located in southern New Mexico and consisting of 275 square miles of white gypsum sand dunes.  It is the largest gypsum dune field in the world.  The sand is pure white and glistening.  Visitors can choose several different hikes, including a wheel-chair accessible route.  I did them all. 
My favorite was a seven mile loop in the dunes.  There wasn't any plant life on that hike.  Because the dunes constantly shift with the wind, the trail is just marked by little flag poles which appear every so often.  There were many moments when I couldn't see the next marker.  I was utterly vulnerable and had to keep moving forward, reminding myself that I had signed the ledger indicating my name and the time I began my hike.  A park ranger would come looking if I didn't sign back in safe and sound.  Still, my vulnerability, my smallness in this vast pure white desert surrounded by the very distant red rocks of a clay desert, was absolutely thrilling.  At the half way point, I slowly twirled in a circle and then looked up in the sky and said out loud, to no one but God,
This is me on planet Earth.
I have never felt so singular on this blue planet bursting with life. Before the moment I gave birth to my first child, standing in the middle of the white gypsum sand dunes all by myself was the most spiritual moment of my life.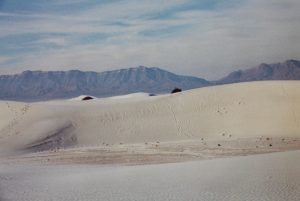 On this day, when everyone is talking about green, I am transported back to miles of nothing but sparkling white sand.
Pure.
As all of earth should be.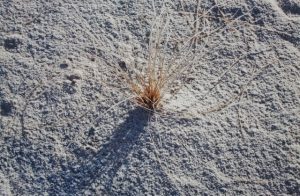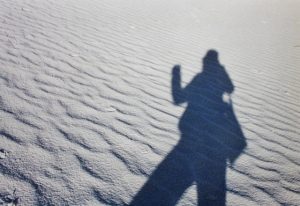 With not a soul around, my shadow served as my self-portrait.  Something to hold and say, I was here, as the wind whisked my footprint away the minute I lifted my foot.