Adopting Betsy Ross
It was the fifth of July. 
The park was littered with the charred vestiges of fireworks.  When we got to the playground, a family was already there.  A father was chattering in Spanish on his cell phone while pushing his daughters on the swings.  Their dog was just outside the playground under a bench.  A park employee was giving her a drink of water.  Dogs are not allowed in the park, let alone the playground.  Raised with cats, I have an instinctive fear of dogs.  This one seemed harmless, so I bit my tongue.
The children played.
About ten minutes later, the dog ambled onto the play equipment and into a prime shady spot, now about six feet away from me.  I looked over at the father, still blabbing away on his phone, oblivious to both his kids and his dog.  My annoyance rose, but the dog seemed fine, so I exercised self-control.  I figured that she must be a family dog and her owner knew she was great with kids.
Still on his phone, the father gathered his kids and headed towards their car. 
"Sir," I called after him.  "Sir!  Your dog!  You're forgetting your dog!"
He slipped into his vehicle and drove away.  Stunned, I looked back at the dog. 
"Well, who are you?" I asked.  "Who do you belong to?"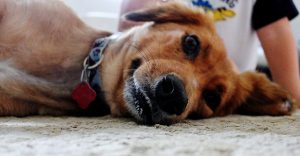 I whipped out my own phone and dialed my husband, the ultimate dog-lover.  I described the dog and asked if he thought we were safe playing.  Of course, he reassured me.  The dog just laid on the ground. 
Ten minutes later another family arrived to play.  A mother and tween daughter.
"This isn't our dog," I informed them, not wanting them to fooled like I had been.  That was a true statement, but as the words left my lips, they surprised me by feeling like a lie.
Horror and fear crossed their faces.  The dog just laid there.  After a couple of minutes, they left.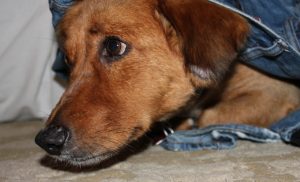 A distant fire engine wailed and the dog howled.
Aaa- wooo!
A memory of the sweetest part of my husband's old dog, Mandingo, sprung to mind.  He used to howl with all his heart at sounds that were indistinguishable to us.  Such a beautiful sound.  On impulse, I texted my husband:
Should we keep her?  I sent a picture, but it was a joke.
A moment later, he appeared.  I am not the dog-lover in this family.  If there was the slightest inkling of me wanting a dog, she must be special he thought.  He checked her out: a bit scruffy, but no fleas.  Perhaps she had been frightened by the fireworks.  He played with her; she was docile and sweet.  
"Let's take her home," he suggested.  "We'll see if we can find her family."
I stood up. 
"Come here, girl," I said, patting my leg and heading towards home.
And just like that, I became a liar:
She was our dog!
Of course, we had her scanned, asked a few local vets about her, checked the town's bulletin board for a notice, and published her picture in the Miami Herald. 
And then, we named her Betsy Ross.